The college is situated at 2 Tampines Avenue 9, covering about six hectares of land. The College facilities include a modern sports complex, well-equipped gymnasium, tennis and squash courts and an air rifle range. A unique feature of the College is its triangular amphitheatre leading to the assembly hall.

TPJC celebrated its Tenth Anniversary in 1996. In the short decade of its existence, the College has grown from strength to strength with an increasing number being admitted to universities at home and abroad.

It is also making its presence felt in the extra curricular activities arena with students winning recognition in areas as diverse as Basketball and Chinese Calligraphy. TPJC also has a strong Choir and Concert Band. TPJCians frequently travel abroad as part of the aim to provide experiential learning.

Currently the College has a staff of 100 led by the Principal, Mrs Susan Chan Yoke Kate, and a student population of 1532.

The College Crest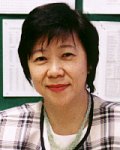 The Principal, Mrs Susan Chan Yoke Kate

The College Compound