Although not yet 3 years old, Ngee Ann Secondary School has inherited a rich historical heritage stretching back to the 1840's, from the Ngee Ann Kongsi, the body responsible for her founding as well as her growth. Through the advice and the financial support provided by the School Management Committee, the school has made firm progress.

The Kongsi, established by the Teochews during the colonial era was an altruistic clan which sought to look after the welfare of the Teochews. Its philanthropic endeavours include channelling its resources into developing youths in the field of education. The Ngee Ann Polytechnic, Ngee Ann Primary and now Ngee Ann Secondary are glowing examples of its sincere commitment to promote quality education for the successive generations.

With the closure of Tuan Mong High School along Tank Road, the idea of Ngee Ann Secondary was conceptualized as a successive link to the existing Ngee Ann Primary in Marine Terrace.

The problem four or five years back was selecting a suitable site for the new school. From among three sites, the present Tampines St 32 was chosen. Convenient bus service and proximity to the MRT dictated the choice. The wise move has paid off as it has attracted good students from the East and dedicated teachers in the region. As a matter of fact, the total number of PSLE students applying to the school for the past 2 years has been about 6000 as opposed to 400 odd vacancies in Secondary One. Nestled in the junction between Tampine East and Simei, the vibrant hues and distinct architectural features of the school leave an indelible impression, and is fast becoming a landmark in Tampines.

With the help of the Ministry of Education, the Management Committee, our dedicated Ngee Ann staff and all well wishers, the school will forge ahead, to provide quality education which seeks to maximise the potential of individual student.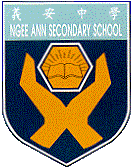 The School Logo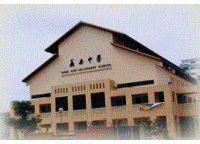 The School Compound