Springfield Secondary School is a new school in Tampines New Town, established on 21st December 1992. Miss Lo, the principal, was asked to take over this new school in early November. We started from a school of 320 pioneer students in 8 classes with 16 teachers and 8 non-teaching staffs, functioning temporary at Tampines Secondary School for 6 months in 1993.

Springfield made history by presently being the only new school to be allowed to choose its own name. The approval of the change came from the School Naming Committee barely one week before the Secondary One Registration and just in time to get the exercise books and T-Shirts printed.

On 2nd of June, we finally settled in at our present premises located at Tampines Avenue 8 that we can call our own. The new school located at the junction of Avenue 2 and 8, is one of the new generation schools designed by the PWD to give it a unique identity.

By the time the new term began, we were all ready for the whirl of activities planned for the year. We held our first Open House and Secondary One Orientation Camp in August. It was indeed a very eventful term, with our students celebrating Youth Day with a Talentime named Spring Time' 93, Teachers' Day and National Day was celebrated with a mass jog.

In the short span of time, our enrolment soon escalated to exceed beyond the maximum of 36 classes. So, we had togo double section and would be producing our first batch of O' Level students this year. Our present staff strength has already increased to 75.

In our 4th year now, we have offered our students many varied ECAs and enrichment programmes. We are proud to be able to build a rock-climbing wall in time to be commissioned during our Official Opening that was held on 15th September 1995. The Zonal Career Resource was also set up by the Careers Guidance Section of the Pastoral Care and Careers Guidance Unit as a meeting place for Zonal career guidance co-ordinators to share knowledge and experience.

Despite the difficulties at the beginning, the principal and teachers moved on till today with their faith in the school and we are seeing results. Springfield is already forging its own identity and making its history. Although Springfield now has some achievements, it still has a long way to go. The pioneering spirit is definitely strong in the first batch of Springfielders, that enables them to strive forward in making the dream of building up the school as a centre to enhance the talents and capabilities of the students come true.


The School Crest


The Principal, Miss Lo Sheu Ming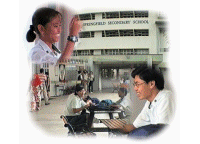 The School Compound