The school was established when the former Kaki Bukit Primary moved to its present location at Bedok Reservoir Road on 2 September 1984 and was renamed BEDOK WEST PRIMARY SCHOOL.
The school was officially opened on 16 July 1986 by Mr. Zulkifli Bin Mohammed, who was at that time, the Political Secretary, Ministry of Community Development and Member of Parliament for Eunos Constituency.

Mr. Mohd. Yunus Ikhsan, Principal of the then Kaki Bukit Primary School became the first Principal of Bedok West Primary. Mr. Choo Eng Hock took over the school as Principal when Mr. Yunus retired in July 1989. Mrs. Angelina Thng, the incumbent Principal, has headed the school since 4 February 1994. She is assisted by Miss Tan Kah Eng who was posted to the school as Vice-Principal on 2 May 1995.

The school consists of seven blocks which house 34 classrooms, 4 mother tongue rooms and 10 special rooms. There are 2 well-equipped computer rooms, 2 music rooms, a science room, a learning support programme room, a ceramic room, a library and an AVA room.

For many years, the school functioned as a single session school. Towards the end of 1995, there was a demand for more places and the school had to function both sessions. The double-session school offers all the three Mother Tongue languages, viz. Chinese, Malay and Tamil. Its pupil population, which has increased in the last few years, is 1468 in 40 classes.

The school serves pupils living in Bedok area and the neighbouring areas such as Eunos, Tampines, Pasir Ris and Changkat Changi.


The School Crest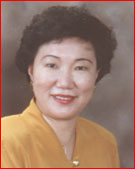 The Principal, Mrs Angelina Thng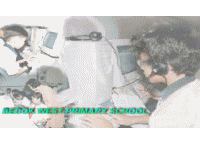 The School Compound and ECAs